下 一个
Previous
Zoom
X50 Showtime multi-functional all-natural herbal cellulite formula
Hong Kong No. 1 Fitness Website Confidence Guarantee
Official agent safe and effective
Hong Kong designated stores to buy (address)
Hong Kong SF stations or convenience stores free pick up (average two working days)
Taiwan International Express sent to the House (an average of three to four days)
【澳洲研發「草本消脂」最強產品型號Showtime】
Looking forward to a long time, the query rate is extremely high, Australia's first overseas public offering of the first batch of goods sold quickly, has been fully returned, now is your Showtime!
Just as the market is full of artificial ingredients of cellulite supplements, the effect is not long-lasting and may damage health. Australia's research and development of a new generation of multi-functional all-natural "herbal cellulite" comprehensive formula now gives you a new choice, the ingredients are completely transparent and transparent. X50 Showtime uses the latest technology to refine and recombine up to 11 high-efficiency herbal cellulite ingredients to achieve effective and appropriate levels, radically improve physical fitness and metabolism, stimulate body's ability to eliminate fat, and natural energy components help maintain athletic training. strength.
X50 Showtime has a natural and long-lasting, stable fat-reducing effect. It can avoid the common "bounce" during weight loss and fat retention, and maintain muscle lines. Just new products have received excellent feedback from the Australian fitness community and are known as "herbal fat-reducing" supplements. A new generation of standards. Free of sugar and zero calories.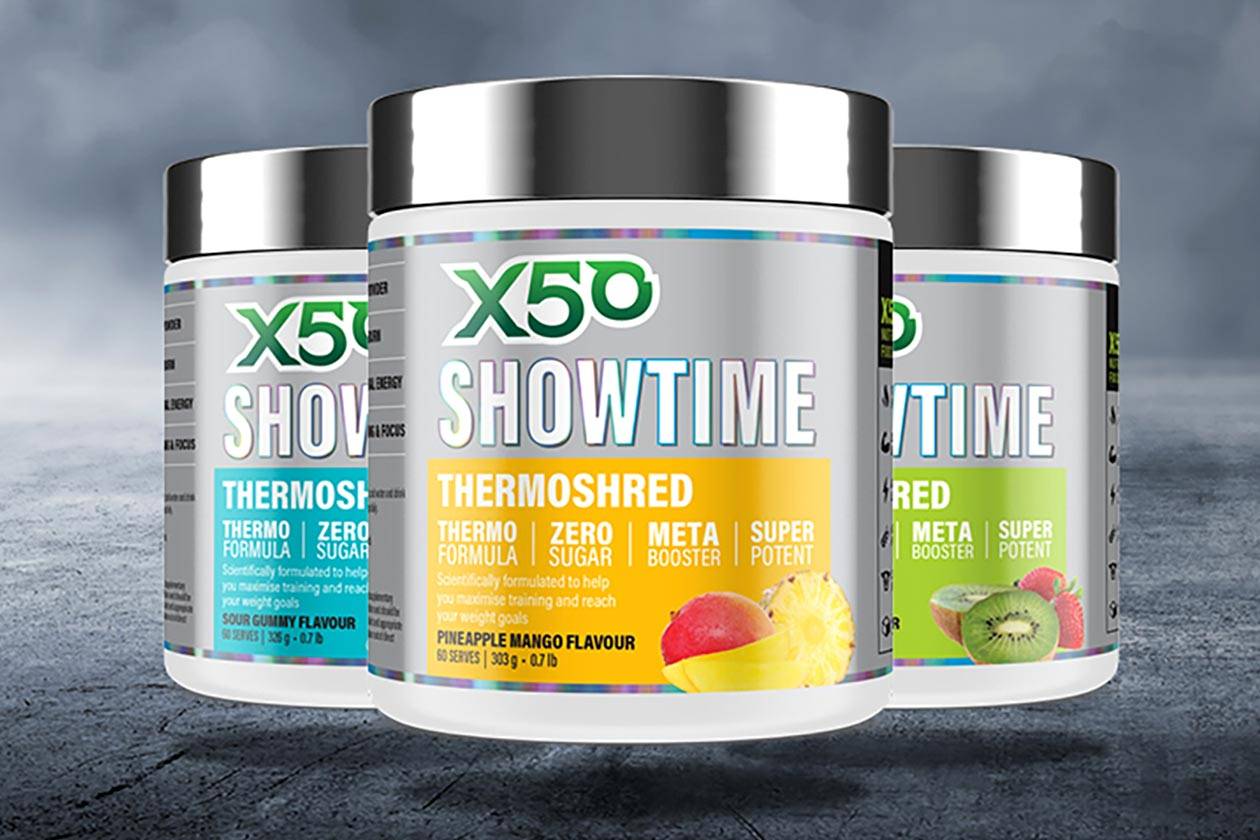 Main ingredients and effects
Acetyl L-Carnitine: One of the most popular natural cellulite ingredients, L-carnitine promotes the body's use of fat as energy and prolongs calorie expenditure after exercise.
Green Tea Extract: Provides herbal natural energy, natural refreshment and vitality, which promotes metabolism and accelerates body's natural cellulite.
Caffeine Anhydrous: A synergistic effect with other energizing ingredients.
Glucomannan (Glucomannan): A natural, water-soluble dietary fiber derived from plants, derived from the "zero-calorie" konjac (蒟蒻), which helps to increase satiety and gently suppress appetite.
Green Coffee Bean Extract: Contains high biological activity of chlorogenic acid, which helps slow down the body's absorption of fat from food. It is almost a must-have ingredient in recent years.
Coleus Forskohlii: Helps the body naturally produce enough thyroxine (T3/T4) and capsaicin to help reduce inflammation and pain, including muscle sprains.
Higenamine: A new plant-derived beta-receptor agonist that is traditionally used to help with tracheal relaxation and contribute to cardiovascular health or to promote aerobic exercise. Training intensity. Higenamine HCL, a component of X50 Showtime, has become more and more popular among users in recent years, especially other cellulite ingredients that may damage health.
Aframomum melegueta (also known as paradise grain): One of the most promising herbal cellulite ingredients in the world, paradise grain has been recorded in academia in terms of anti-diabetes, anti-obesity and slowing down sugar absorption. It has been shown in research experiments to increase systemic energy expenditure and reduce the body's internal body fat (in the case of daily consumption).
Synephrine: The principle of action is similar to Ephedrine, which increases fat consumption, increases basal metabolic rate, promotes metabolism, and is much safer than ephedrine without affecting blood pressure and heartbeat.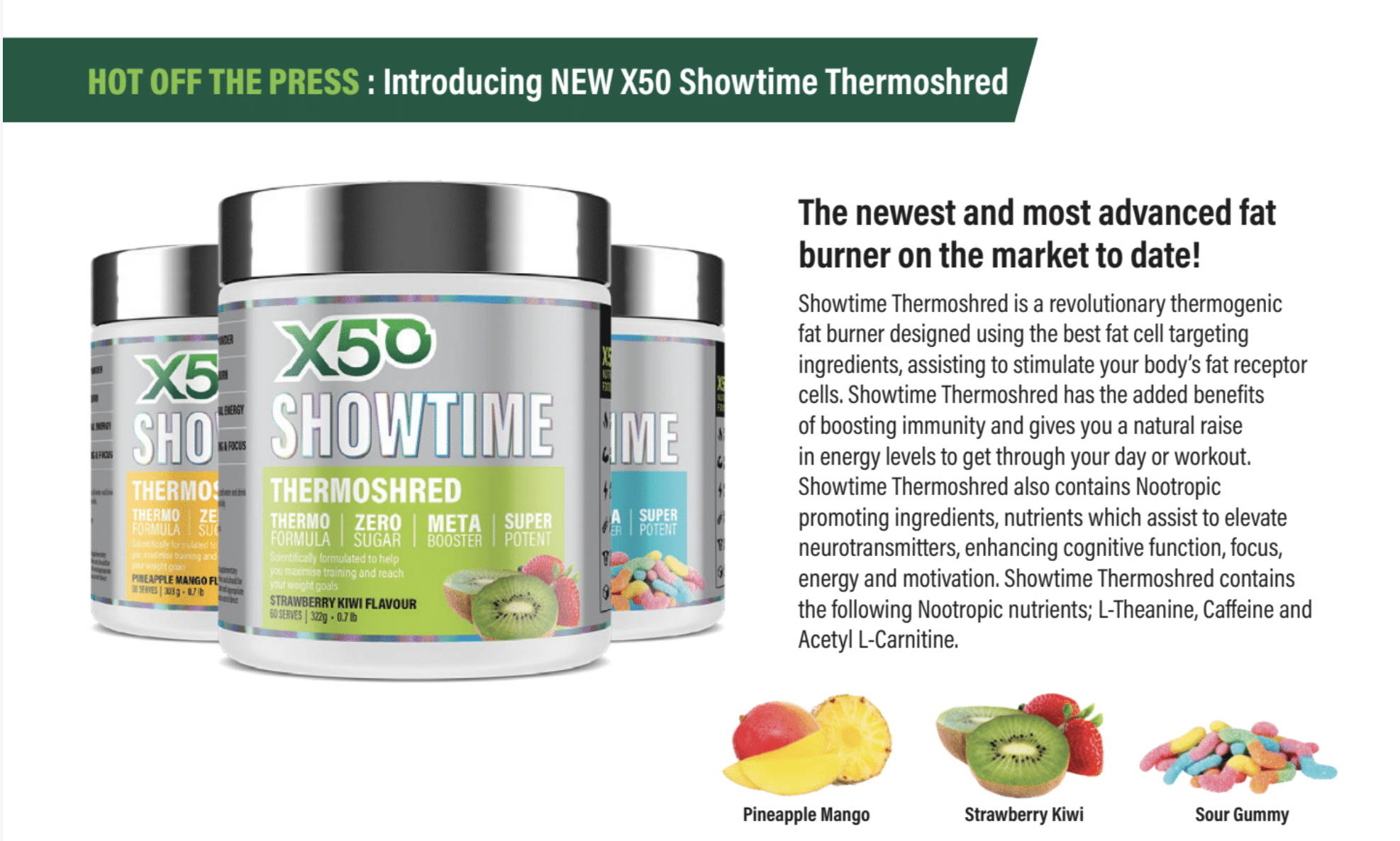 「超好味道,而且超抵用」(It tastes amazing...really good value of money at the same time) - 澳洲Fat Burners Only評測

「強大的脂肪燃燒器,具備科學研究的關鍵成分支持」(a potent fat burner that is backed by scientifically researched key ingredient) - 澳洲Genesis評測

「11種不同成分的組合,完全透明的份量標籤」(a mix of 11 different features, all of which are transparently dosed) - 美國Stack3D評測
Have a sporty day: drink 20 minutes before exercise. Drink 650 grams (spoon) each time with 5.3 ml cold water.
Days without exercise: Drink once in the morning or before lunch. Drink 650 grams (spoon) each time with 5.3 ml cold water.
It is recommended to use 60 days continuously.
Precautions:
X50 Showtime has no side effects for people who are healthy. Please read all the manufacturer's information in full and follow the recommended usage.